ALFA1 Life Saver NANO Water Filtration Bottle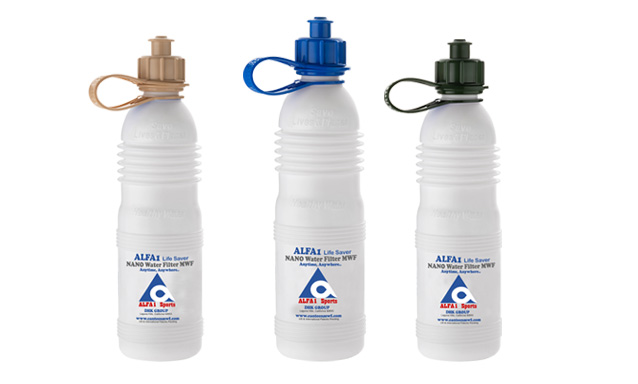 We provides a regular supply of fresh, clean, odorless, pure drinking water-Anytime, Anywhere… and system is here to protect you and your family from waterborne diseases. The Military Canteen water filtration and iFilter Bottle filtration systems use a common proprietary ALFA1 Filter Cartridge and Cap to provide highest quality fresh filtered water at incredibly low cost anytime anywhere.
This reliable flow of sparkling water is now well within your reach and affordability. Anytime, Anywhere…
NANO Water Filtration system is not just any other water filter. This specially developed portable purification system ensures an instant flow of fresh drinking water, free from suspended particles, chemicals, impurities, bacteria, heavy metals, organic compounds and pesticides.
Our ALFA1 Military Canteen and ALFA1 NANO Water Filtration systems ensures peace of mind when travelling, camping, hiking, hunting, fishing and very effective for all types of military and disaster aid operations for instant supply of freshly filtered water when needed. Our patented ALFA1 Canteen Personal Water Filtration System (PWFS) removes 99.99% of bacteria and protozoa, including Salmonella, E-coli, Giardia, Cryptosporidium, heavy metals, VOC's, etc. It is the perfect uniquely designed water filter system to filter water from the nearest stream, puddle, or pond. It's an instant filter, the fastest way to filter-no power required, never pump or wait for chemicals to react.
It's a compact, ultra-light water filter system solution for fresh, clean and healthy drinking water in the field, travel, home, office any time anywhere. Don't bother carrying heavy water bottles – simply drink from the nearest river or stream or any potable water.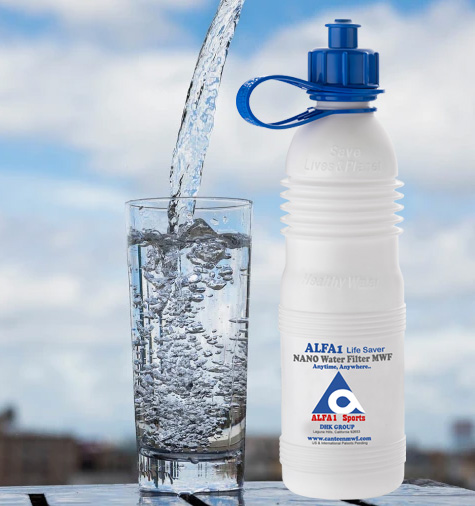 ALFA1 i-Filter NANO Water Filtration System
Outdoor adventure equipment built to its durability and multiple use. Excellent addition kit to your survival in adventure tour.